PeasePod Books
Books to Buy
New Non-Fiction Chapter Book:
Safe at Last. True Stories of Horse Rescues


Denver Public Schools review of Safe at Last. True Stories of Horse Rescues:
DPS Review Committee: Recommended (Jan 15, 2016)
Meet Poncho, Topaz, and Knee-Hi among others in this heartwarming book about the horses and their people at the Colorado Horse Rescue. Poncho was an old trail horse. He was living alone in a small pen when someone called the Horse Rescue. The owner was unable to care for Poncho right and knew it was best for Poncho if he went to the Horse Rescue. Topaz was in a corral with several other horses. The owner rarely fed them and the horses had to sift through the dirt and sand for food. When Topaz came to the Horse Rescue his belly was filled with dirt and sand. Topaz was barely alive. Knee-Hi is a miniature horse. Knee-Hi's owners tried to sell him when he was only three months old, much too young to leave his mother. The owner's couldn't take care of him and his mother so the Horse rescue brought both of them to live with them. These and other stories of survival make this an excellent book for young readers. The book is illustrated with photographs of the horses at the Colorado Horse Rescue. Young readers who are horse people as well as budding young activists will find value in this slim book. (Reading Level: 3-5)
Tallie's Christmas Lights Surprise! A holiday whodunit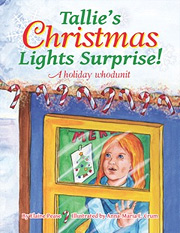 Who stole Tallie's sparkly, special candy cane Christmas lights? Was it the mailman, a snake, or maybe a baby reindeer? You're in for a big surprise!
"Tallie's Christmas Light Surprise is a delightful romp of a whodunit. Tallie's wonder and exuberance bubble up fresh on every page as she tracks down her missing Christmas lights. The yummy surprise ending leaves you with a warm and wonderful feeling of Christmas."

–Kerry Lee MacLean, author of Peaceful Piggy Meditation, Moody Cow Meditates, and now, Moody Cow Learns Compassion.
View the trailer video below:
Ghost Over Boulder Creek
Written by Elaine Pease
Chapter Book-history/mystery
Approximately 90 pages

After surviving the Washita River Massacre, Run Through Fire, a half-Cheyenne, half-white boy uses the ploy that he's a captured white and humbly follows Buffalo Bill across the plains in search of Run Through Fire's father. Run Through Fire hopes his father can help free the imprisoned survivors of his tribe. His mother is among them. When Run Through Fire arrives in Boulder, the ghost-like images that have haunted him during his journey prove to be more than warnings. Encourages discussions about prejudice, the westward movement and Manifest Destiny.

2011 EVVY First Place Award
(Colorado Independent Publishers), for Ghost Over Boulder Creek in juvenile fiction.
[+] Click image to enlarge
Even Sharks Need Friends
Written and illustrated by Elaine Pease.
Illustrative assistance from Kerry Lee MacLean
and Natalie Pease.

Hammy the hammerhead shark loves to eat, and, with a head like a hammer, he has a tough time making friends. When a near-sighted little sea urchin tries making friends, Hammy rejects her. In this zany adventure for four to nine-year-olds, we follow Hammy as he is bullied by other hammerheads for being tubby. Hammy consoles himself by eating chocolate-dipped squids at the Feeding Frenzy Caf?©. Then he tries to fit in with a band of hammerheads. But Swimmy Buffet and his Coral Waver Band shun him, too. Parents and educators will appreciate the fun facts on sea life in the back matter, along with activities, reproducibles, and a section on "How we made this book and how YOU can, too!" Children will love the sparkling, 3-D undersea world of "Even Sharks Need Friends."

Price: $15.95 U.S.
ISBN 09702275-1-5 (hardcover, 40 p.p.)

[+] Click image to enlarge
I'll Never Leave
Written by Elaine Pease and
illustrated by Kerry Lee MacLean.

Little Leaf loves her work so much on the tree that she constantly says, "I'll never leave." But birds, the wind, even mother tree all try to convince her that it's time to leave. This circle of life theme will teach children about the wonders of nature and how everything has an important role--even a little leaf. Pre-schoolers through third grade will learn amazing facts about leaves and have fun with the leaf activities provided in the back matter. Also, look for ladybugs and see if you find them all! The cover has a special die-cut "window" over the title page.

Price: $14.95 U.S.
ISBN 097022750-7 (Hardcover, 32 p.p.)