PeasePod Books
Home
For immediate release
Contact: Mary Walewski
Email: [email protected]
Direct: 303.725.9313
July 26, 2011
Indie eBooks being purchased for Library loans!
The Library eBook Partnership between the Colorado Independent Publishers Association (CIPA) and the Douglas County Libraries (DCL) in Colorado reached a milestone this week—the first round of ebooks have been checked out by library patrons and checks are going in the mail to independently published authors who sold their ebooks to the library!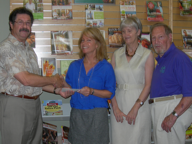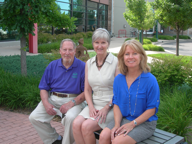 Dan Miller, CIPA's president, presenting the
first check for an author from the Library eBook Project to Elaine Pease, author of Ghost over Boulder Creek, as her publisher Doris Baker (Filter Press) and CIPA's treasurer Herb Tabak look on.
CIPA's treasurer Herb Tabak, Doris Baker,
Filter Press publisher, and Elaine Pease,
author of Ghost over Boulder Creek, in
front of Phillip S. Miller Library in Castle Rock, CO celebrating completion of the first round of library ebook being made available.
"This may sound like a simple undertaking," but it wasn't," said Dr. C. Daniel Miller, CIPA president. " "We're thrilled that the resulting system is working and the first round of ebook submissions have all been checked out and most have a waiting list! The library district's Digital Rights Management software ensures that the "one title, one user" model is followed."
Both CIPA and the Douglas County Library System had major tasks to implement the partnership, including
ü Identifying and soliciting quality independently published ebooks in the ePub format
ü Providing an online "opt-in" process to verify CIPA EVVY submissions
ü Creating secure online submission of metadata, cover, ePub files
ü Applying DRM to protect the authors' rights and manage library loans
ü Creating a library cataloging and loan process
ü Setting up a purchase mechanism
"The goal was to ensure that DCL is able to purchase quality independently published ebooks for their ebook program," said Miller. "Fortunately CIPA already had an awards program in place. For the past 14 years, CIPA's competitive annual book award program, the CIPA EVVYs, has recognized books that meet and exceed the high standards set by the organization. Awards are made in any of the 21 categories only when a book meets the point criteria for the 1st, 2nd, or 3rd place recognition."
The CIPA EVVY winners are selected by panels of judges who are experts in their field. They include teachers, business leaders, literary critics, writers, book-lovers, editors, graphic designers, and many more. These impartial judges may not be a CIPA member and must also pass a rigorous qualification process.
For the first two rounds of submissions in the indie ebook pilot program, only CIPA EVVY award-winning books by current members were accepted. The submission process for additional titles is now open to CIPA EVVY award-winning books by authors who are not CIPA members. Preliminary conversations also are being held with affiliated non-profit independent publishing organizations that have a history of annual book awards for quality titles.